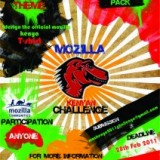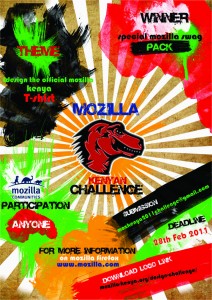 Submit design to: mozkenya2011challenge@gmail.com
Deadline: 28th Feb 2011The goal of this challenge is to create a unique Kenyan design that captures the essence of Mozilla and what it's all about i.e. 'Openness on the Web'
The winning design will be printed as the official Mozilla Kenya t-shirt and distribute to thousands of fans and contributors in Kenya. It will also be highlighted in our local community site as well as other global Mozilla sites. Winner get a special Mozilla swag pack
Before you start designing, cialis here are some important information and inspirational themes to keep in mind:
1. At its core, Mozilla is about people and is powered by an amazing global community of individuals working together to make the web a better place for everyone.
2. We highly encourage you to interpret the above themes in creative, abstract and interesting ways. Please don't be literal. For example, note how the Firefox 3 t-shirt design embodies the concept of community in a creative way.
3. It's not a requirement to use the Firefox logo in your design. However, if needed, you may download the high-resolution PNG here.
Additional considerations when designing for a t-shirt:
Ideal printing space is roughly a 10×10 inch square canvas on the front of the shirt.
You'll be designing for the front only, as the back will already have the Firefox wordmark printed.
Please include a background color suggestion in your mockup. This will be the color of the t-shirt your design is printed on.
You can use a basic t-shirt template as a reference guide for placement and size when designing. But please submit only the design itself, not a mockup with the t-shirt.
Files should be uploaded as high-res (300 dpi) PNGs or JPEGs. But be sure to hold onto the original working files, because if you win we will need those. Be sure to optimize the file for print, and preserve all the layers.
Original artwork should be created using a scalable vector graphics editor program (SVG format), such as Adobe Illustrator or Inkscape.