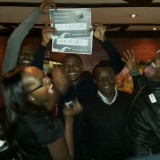 November 10th was an awesome day. The 10th anniversary of Firefox coincided with dinner with Laura and Ben (Mozillians from user research division-London) at Fogo Gaucho Nairobi Kenya. Pure coincidence though. I thought I should mention.
Anyway…
Laura And Ben are visiting Kenya with an aim of carrying research on digital literacy and to understand how Mobile Webmaker can empower the next billion web users, there and more specifically how to drive digital inclusion in emerging economies and lower the bar for local content creation. The team is currently running a research trip in Bangladesh, in urban and rural locations with various user groups.Other countries of action are Kenya and India. They are also working on a challenge to empower communities to take part in this research in their home countries.
The team is especially interested in empowering new smartphone users to create and distribute locally relevant mobile apps. During 2014, this team will be studying motivations and constraints for creation in emerging digital economies, then prototyping and testing several software and teaching hypotheses in order to find solutions.
The dinner was mainly to introduce this concept to us (the Kenyan community), see how we would contribute to make this a success and to meet the Kenyan community as well. And Fogo Gaucho provide the best venue to wine and dine as we tried to brainstorm on how their objectives would be met and how best these objectives would be collected and disseminated all around the country.
Now the Meaty part…
Fogo Gaucho is a Brazilian restaurant located in Westlands Nairobi. Serves different cuts of meat- beef, chicken, fish, prawns, pig, goat and even crocodile meat prepared by Brazilian chefs. Mouth watering huh!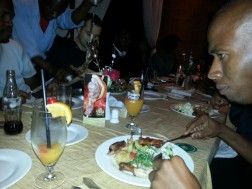 Dinner was at 8 and around 10 of Nairobi community members showed up. We got to know more about the research project and we had a chance to give our ideas on how best the research team would carry out their research. We all pledged to attend the boot camp, code named Equity Group Foundation/ Mozilla digital literacy training program that would be happening later on in the week.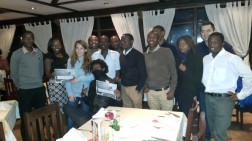 The night wouldn't have been complete without celebrating Firefox 10th anniversary. We didn't sing happy birthday  but we took photos wishing fire fox a happy birthday.
Cheers.