The long Mashujaa weekend began and in itself presented a great opportunity for the MozCoffee meetup. Mozillian Shujaas, unhealthy from various institutions in Mombasa came together to discuss issues that involved improving the Mozilla Mombasa Community, diagnosis Students and Reps as far as from JKUAT VOI and within Mombasa came to represent their various institutions, we also had the privilege of Mr.Abdulrahman lecturer from JKUAT Mombasa. So after a light banter and moments of acquaintance the meeting commenced.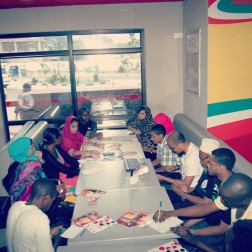 The agenda was as follows
*An update on the efforts that have been made in reaching various learning Institutions in Mombasa
*Recruiting Reps from the Institutions that have come on board.
*Prospects of engaging with Taita Campus
*Social Media Engagement
*Blogging
 *Planning events for the next quarter of the year
Alifya kicked in by informing us on the progress on reaching institutions of learning in Mombasa and having wider outreach across Mombasa. The team is constantly reaching out to institutions and so far a good number of the institutions are on board, as depicted in the community run events. However theirs still more institutions that need to come on board.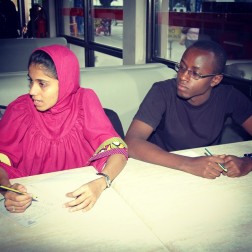 Said also pointed out that the online presence of the community needed to be felt more, and that the Mozilla community members (you and I) need to have a collaborative effort in pushing the message of Mozilla Mombasa; sharing blog posts to friends and peers out there, asking questions on the forum among others. Engaging in social media enables the community to reach a majority numbers of people and spread its wings on the Inter webs. It just takes that one tweet tag to a friend. However this should not only be online but offline as well.
Having said that, in order for the presence of Mozilla to be felt in various Institutions. It was deemed important to recruit a representative from the institutions who would be the "Go To" person when Mozilla Mombasa Community would want to partner with the institution. Besides that the representative will also be in charge of starting a Firefox Club and churning out future reps in their campus that would later carry on the mantle when their time in the institution has elapsed. Musa Alfan offered to be a mentor for the reps.
The following attendants that were present at the Moz Coffee volunteered to be representatives for their institution:
Kizzi Dimira represantative of The Kenya Methodist University
Fauzia rep for Mount Kenya University
Magambo rep Jomo Kenyatta University of Agriculture and Technology
Festus rep from Taita Taveta University College
We look forward to having reps from Technical University of Mombasa, Kenyatta University and Moi University.
Festus Langat from JKUAT- Taita Taveta Campus did share with us how Tech enthusiasts from the institutions have gone out into starting a Tech Hub.  They hold Math competitions for high school students in order to get students be involved in the science & technology field. In being the change you'd want to see in the world; Taita Taveta is shaping up to be another avenue which will churn out future Technology and Science enthusiast.
In regard to blogging about the Mozilla Mombasa, we couldn't go without notice the efforts that have been put out by Bryan who volunteered as a blogger earlier this year, being consistent on updating and spreading the message of the community and various discussions/ events that the community has had. Blogging on both the Community hub website and the Mozilla Kenya Community website has been an effort that we do appreciate. It was also proposed that members be active on sharing the blog posts and feel free to critique. For the coming year Magambo Gatobu volunteered to take on the mantle from Bryan and he will be the next Mozilla Mombasa blogger 2015.
 Then a brainstorming session followed in conclusion for plans on the next quarter of the year, we came up with different ideas of events centered on Mozilla, from Toto Web, Cryptography, Web developer tools just to mention a few.
Of course towards the end after informative discussions, there was time to make merry light banters and have a bite of the assortments of the Pizzas Inn. While at it Take selfies; Food Selfies included.

Mozillians do share too

.Check out the photos, we are now on Instagram here.It was a succesfull meeting and a big thank you to the Mozillian Shujaas who showed up for the Moz Coffee, and Happy Mashujaa's Day fellow Mozillians.