So with the date set and people registering for the event, Mash-up the web was finally here! Despite experiencing some slight rains in the wake of the event this didn't deter attendees from showing up to the event with some like Gilbert showing up at the exact time 8:00am sharp. It was very commendable and we hope this spirals down to the community members, punctuality is the soul of business. The venue was really outdone, kudos to the Jomo Kenyatta University of Agriculture & Technology (JKUAT) fraternity for providing the space, facilities and for their valuable support of course without which this event would not have been possible.
The event had a great turn out with an attendance of about forty members. We kicked off with Alifiyah briefing the members about the Mozilla events that are under Maker Party 2014 and which are currently being run worldwide, and Mombasa having the privilege to host 5 among the 2098 events running is indeed in itself an achievement, and a recognition that there is potential here within Mombasa. It's also a sign of the great efforts being put out by the Mozilla Mombasa Leads into organizing these events here. She also provided an overview of Maker Party and the what's and why's and briefly highlighted the Mozilla Webmaker project.
Next we had Murad Swaleh, Owner at Crablinks Interactive and a credited web designer who has designed websites for companies around Mombasa and whose previous works are quite evident. He was undoubtedly the one fit to take us through using the Mozilla Thimble; a tool that makes it incredibly simple for anyone to create and share their own web pages and other projects in minutes. First off he started with a brief open discussion when it came to building a website, what steps to follow when one is told to build a website. This was really an eye opener for upcoming web developers. Attendees also had the chance to create a web page(s) using Mozilla thimble some of the samples can be found here.
Magambo Gatobu: https://magambojnr.makes.org/thimble/LTEzNTc4NDAxMjg=/lets-make-the-web-created-on-wed-aug-6-2014-726-am
Harris Mwashalo: https://vharris.makes.org/thimble/LTEwMzkwNzMwMjQ=/maker-party-event-report
We also had one of the leads Said Fuad educating the attendees on Popcorn maker. He had a video which he had first worked on, so as to show how the attendees how to go about it. Remixing web video, audio and images into cool mash-ups that you can embed on other websites. This had most attendees creating awesome videos with the popcorn maker here is a sample of one of the videos. Check out samples of the videos.
Ruth Kaveke: https://kaveke.makes.org/popcorn/2700
Opportuna Marura: https://ops.makes.org/popcorn/26zs
With the 3hrs of intense hacking guys were famished and lunch was indeed well taken care of. A word to describe that lunch, tantalizing!
After lunch just Alifiyah took over by having an interactive discussion on the concept of Digital/Web Literacy and its importance in today's life.  Defining it as a map of the skills and competencies people need to read, write and participate effectively on the web. Attendees were divided into groups and given a trivia into fitting where each tool goes where on the web literacy map. This was also an interactive session since the groups got the chance to support the answers they gave by pitching it to others. Shown below is the Web literacy map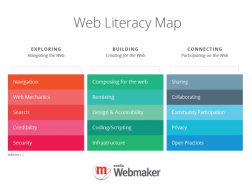 In conclusion Swaleh Abubakar, Owner at Crablinks Interactive and Lecturer at JKUAT Mombasa had a heart to heart talk with participants. He encouraged them to actively engage with the community and also focus on one niche. It is important for one to focus on what you are good at and work on bettering yourself. Many thanks to them all!
Generally the event was a success and with App-Maker just hours away we encourage you on to take up the opportunity of getting involved with Maker Party 2014. Many thanks to the Mozillians and the Community members (Magambo Gatobu, Bryan Opiyo, Harris Mwashalo, Fauzia Ismail and Ruth Kaveke) who have contributed so far.
1 event down 4 more to go, see you in the next event.