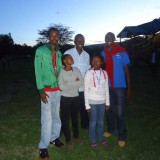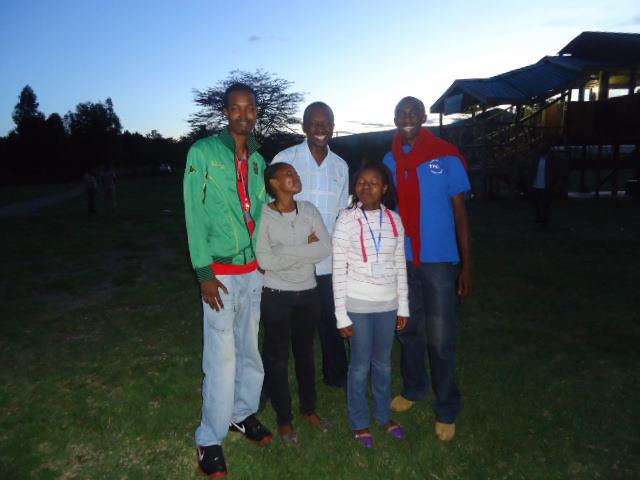 WordCamp Kenya went down over the weekend at CrayFish camp in Naivasha, 80 km from Nairobi city center. At hand to represent Mozilla were Carolyne Mbulwa, Winnie Situ, Stephen Wanjau, Oscar Limoke and myself. Thumbs up to Stephen and Limoke who made it all the way from Juja / Murang'a to Nairobi and finally to Naivasha.
Carol and Situ were the first to arrive (Saturday morning), early birds if you may and from what I heard, they rocked the place! I linked up with Stephen and Limoke later on that afternoon in Nairobi, caught a bus and made our way to CrayFish getting there just in time for some bird watching bylake Naivasha! David Mugo, the event organizer was at hand to welcome us along with John Karanja from Whive – a local social media platform. Well not forgetting Carol and Situ, these two were everywhere!
WordPress being a popular CMS for blogging sites, a bunch of local bloggers were here and you can't imagine how much these guys tweet and blog, you can check out the WordCamp tweets using these hash tags #wcke , #WordCampke plus I'll put up a list of some great blogs that were done on the event at the end of this post. We caught up with some old and new acquaintances over dinner, discussed a bunch of stuff among them WebFWD (Web forward) the the new Innovation Accelerator from Mozilla and a need to make its presence felt in Kenya.
Last activity of the day on the schedule was a Lyrical Artistry and Poetry session by Wamathai and Njeri wangari which was supposed to happen by a bonfire but we had to move under shelter when it started raining

I'm not an avid poetry fun though I found this session quite entertaining and yah, so I had some fun with it! Time to call it a day came, we had a mishap with our sleeping tents so long story short, we spent most of the night browsing the web and "shuffling". We also discovered that some hippos ran wild at the CrayFish camp area…
We managed to catch some few zzz's before resuming for the second day of the WordCamp. David Mugo, the event organizer gave a talk about Africa plus WordPress with a demo on Mobile themes and WordPress mobile apps topped up with interesting stats on mobile coverage in Africa. A bunch of talks this day were aimed at pushing for more local content on the web in Africa by showcasing how far we've gone. Some included:
You can checkout the entire schedule here: http://2011.kenya.wordcamp.org/schedule/
WordCamp Kenya came to an end at around 4:20 pm EAT . We caught the buses made available by the WordCamp kenya team back to Nairobi. The back bench was dominated by Mozillians, along with one new recruit Bett Kipsang (Beliot), Isaac Kosgei (Wikimedian) and Martin Gicheru (web developer; tech reviewer). We had a great discussion about local web enterprises, their successes and failures along with what they are doing wrong, right and what it takes to make it and survive as a web entrepreneur in Africa.
Some insight by Carolyne Mbulwa on what she picked up about blogging:
"Blog your passion
Yeah, the easiest way to blog is to blog your passion. It does give the blogger leverage in that ideas flow, not much energy is spent on research as opposed to a topic you are not versed in. Passion makes you understand your area in order to tell your audience.
Engage your target audience
Talk to them, let them feel like its a one on one with them. When you get an attachment to a few of them, they will feel good sharing your work with others, and that's like recommending you. You know how recommendations work, word of mouth, word of tweet.
Plan your blogging just like you would do a business
Two of the speakers, Moses Kemibaro and Njeri Rionge articulated this very well, Njeri told us that we need to plan our blogging just like one would do a marketing plan, who are your audience, how will you reach them, is it the numbers versus conversion. By conversion I mean, say you are selling a solution to your audience, you would better have targeted audience 2000 people access your content and 500 of them actually purchase your product, as opposed to an untargeted audience of a million and you don't get a hundred of them .You should know the people you want to reach and research how best to do this. Taking time to plan gets you right on track, early and saves you time roaming in the desert of unplanned work for 40 years like the Israelites of those times.
Be the professional
Take things seriously. Let you be known in your niche, let it flow from your blog to your tweets, own it. You will find even paid consultations going your way just because you are the person who talks with authority in that niche. Moses Kemibaro does that all the time, and you say blogging doesn't pay!? "
In summary, this was a great event for Mozillians to attend and with the new acquaintances made, we'll now be on the know of any blogger related events happening as well as look into the future of blogging in Africa (local content). We've also made strives in getting guys interested in WebFWD.