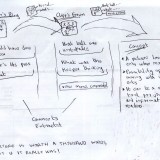 They say a picture is worth a thousand words, what if it literally was!
Well we had our very first local Drumbeat (MoJo – Mozilla + Journalism) event yesterday – 6th June 2011. Being a MoJo event, we brainstormed over open web technologies and ideas that could be used to make online news and journalism edgier, cooler and more interactive from both the readers and creaters of news and came up with a couple of ideas for the Knight-Mozilla News Innovation Challenge.
So back to the picture wotrh a thousand words. This is one of the ideas that came from the MoJo meetup; we have dozens of pictures online. Be it one taken from a new year's celebration, a tragic occurrence, royal weddings, well, you get the drift.The thing is people from all over the world get to comment about these pictures on online blogs and forums but when a picture is moved say to another site or even downloaded, all information gathered from the views of different people through comments is lost.
What if it was possible for all this info to move/be attached to the picture so that wherever a picture went, comments from the first time it was uploaded would be available.
The comments can be attached to the image or stored online with references to relative images in situations that comments would make the images size too bulky.
This idea has been submitted under 'Beyond Comment threads' category of the challenge.